As we round off the year, here's a visual reminder of some of the best bits of our 2016. Merry Christmas!
Dark Land Light House – Sleepdogs
Sleedogs premiered the thrilling Dark Land Light House in April, packing out Bristol Old Vic Studio for its entire ten-night run. The Public Reviews described it as "A beautifully realised production that builds up a taut, spine-tingling atmosphere".
Photo: Paul Blakemore
Chekhov's First Play – Dead Centre
The UK premiere of Dead Centre's blistering take on Chekhov's Platonov wowed audiences at Mayfest 2016. The Stage described it as "brilliant" and duly awarded it five stars. Our audience was fascinated, confused, thrilled and the show became the talking point of the festival.
Photo: Paul Blakemore
Of Riders & Running Horses in Tbilisi
Still House's glorious Of Riders & Running Horses continued to delight audiences around the world this year, finishing a UK tour with performances at the National Theatre's Riverstage and also taking in Prague and Tbilisi, where this shot was taken.
Photo: Beka Javakhishvili
salt. – Selina Thompson
We commissioned Selina Thompson's salt. with Theatre Bristol, and the show premiered at Arnolfini as part of Mayfest 2016. Exeunt described it as "hitting you like a punch in the face, and confronting the prejudices and aggressions that black women have to navigate on a daily basis"
Photo: Richard Davenport
Demostage
We tried out a new platform event in Mayfest, called Demostage. It's an idea created by Dustin Harvey's Secret Theatre in Canada. Presenters show what they've been working on. Audiences ask questions and give feedback. It's not a scratch night. It's an informal event in a bar, inspired by software developers who meet up, drink and demo the programs they're working on. We're doing another one in January at Tobacco Factory Theatres.
Photo: Paul Blakemore
Blind Cinema – Britt Hatzius
One of three shows in this year's Mayfest that involved children as performers/makers, Blind Cinema invited blind-folded audience members to have a short film audio described by school children. Novelist Sarah Waters named it as one of her cultural highlights, describing it as "intimate, fumbling, inventive, unique". Oh, and she said that Mayfest was excellent, too.
Photo: Paul Blakemore
Mayfest Radio
Now in its third year, Mayfest Radio took to the airwaves 24-hours a day during the festival. New features included the genius '4s at 4', where four-year olds are asked pressing questions about art and life, and a fascinating interview with The National Theatre's Artistic Director Rufus Norris. It's all available to listen again here
Photo: Paul Blakemore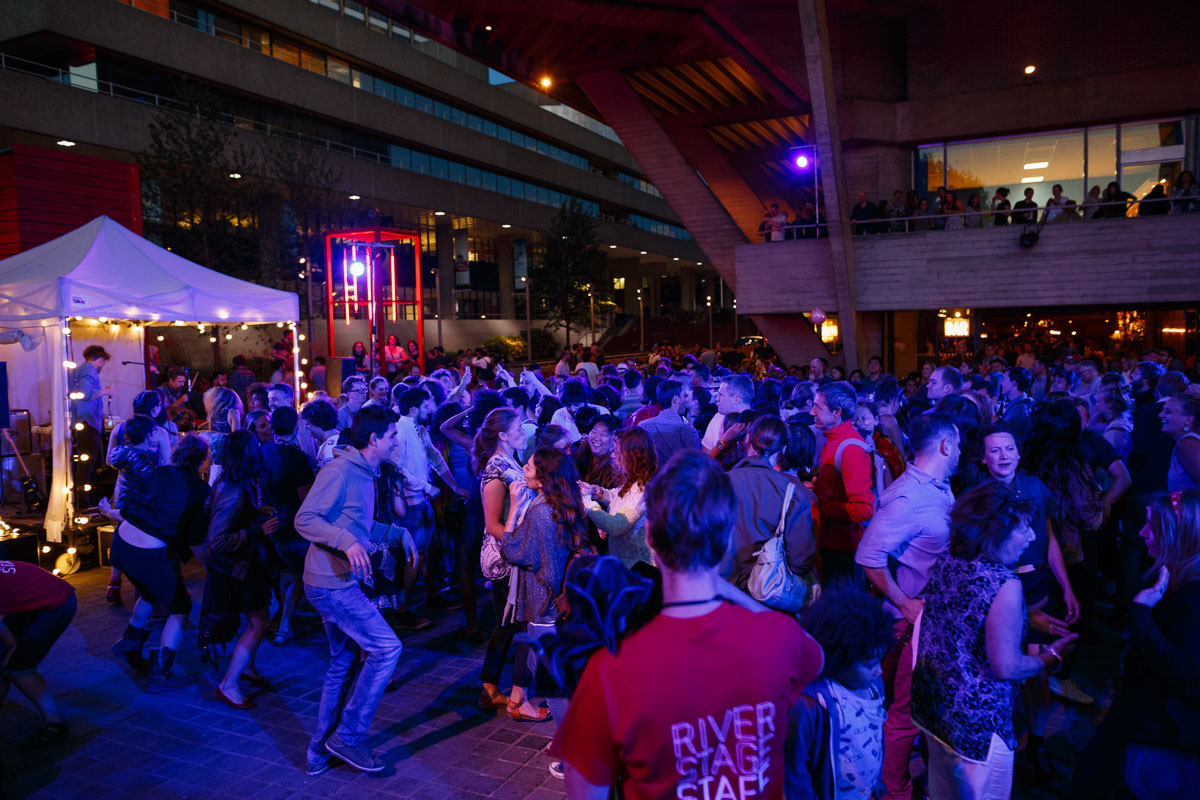 River Stage at the National Theatre
Mayfest took over the River Stage at the National Theatre in August, with a packed programme of Bristol-flavoured performance, featuring Verity Standen, Still House, Wilf Merttens, Sam Halmarack, Sleepdogs, Junior Jungle and Alabaster DePlume. Highlights included a noise complaint from David Hare's Chekhov in the Olivier during Of Riders and Running Horses.
Photo: National Theatre
The Blind Tiger Cub
Kids took centre stage again at the Blind Tiger Cub during Mayfest. Songs, dances, strange competitions, anything went in this junior cabaret bar, compered by the excellent Wilf Merttens.
Photo: Paul Blakemore
Mayfest 2016 Opening Party
2016 marked the final Mayfest Opening Party in Bristol Old Vic's 1970s foyer before the wrecking ball moved in. Never again will we shimmy to Lionel Richie on that purple carpet, or interpretive dance in the studio. True to form, our audience celebrated the start of the festival in style, and the hangovers the next day were as fierce as ever.
Photo: Paul Blakemore
This is Not a Magic Show – Augusto Corrieri
In a first for Mayfest, we staged a show on one of Bristol's iconic ferries. Augusto Corrieri's clever and surprising This is Not a Magic Show charmed its audience as it sailed up the harbourside.
Photo: Paul Blakemore
Fashion Machine – Theatre SKAM
Canada's Theatre SKAM brought their colourful, chaotic and hilarious Fashion Machine to Mayfest, where kids took the clothes from audience members' backs and re-fashioned them live on stage. Our highlight was the little girl at the final fashion parade, who described a circle she had cut into a dress as the "gates of hell."
Photo: Paul Blakemore